codeSpark Academy with The Foos does not use words to teach coding basics.
No words in the game means that pre-readers, non-native speakers and kids with reading disabilities can play and learn.
Game icons are fully animated, including the hand in the screenshots below.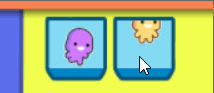 Screenshots From Web levels
Computer Science Concepts Taught
Sequencing
Looping
Conditional Statements
Events
Boolean logic & sorting
Variables (coming soon!)
Multiple Game Modes
Create Games – Code your own side-scrolling video games.
Solve Puzzles – Self-guided puzzles teach kids the basics of coding.
Apply Concepts – Play mini-games and challenges.
Features
Pre-reader friendly
Self-guided
Offline activities
School resources
iOS and Android devices
24 free levels on the web
$7.99 per month
FREE for public schools and non-profit organizations